f you ask me about an appliance that has really changed our lives to the beast , you would make it very difficult for me. I'd probably choose the washing machine over the fridge, even knowing that keeping our food fresh and healthy for days and weeks is a human achievement.
You go out to work, do sports, have a drink with your favorite people … and, come back as you come back, your washing machine will return your clothes to their original state (well, almost) in just a few cycles, and even practically dry depending on the model.
That is why I consider it important that we improve our communication with this great domestic friend.
That we understand their problems and know how to solve them, without fear and without drama
.
There are several washing machine issues that don't need expensive repair, but a simple check on your part to see what happens and what can be done about it.
Let's go point by point … although the first thing is to always unplug your machine for those tasks that are dangerous . Remember that water and electricity don't get along!
.
1. Water leaks
It is essential to act quickly if you detect a leak, because it can quickly get worse and create a real artificial lagoon in the kitchen.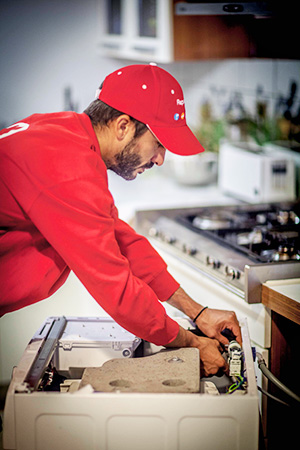 1. Check the rubber on the washing machine door well for deteriorated areas. If so, replacing this rubber is not difficult. You just have to remove the front panel and see at what point the rubber is attached to the device. You may want to take a look at your washing machine instructions.
2. Remove the washer and check the back for loose pipe connections.
3. Check the soap dispenser.
Dirt or solid buildup in this area can block passage and cause water to back up.
If you find piles of dry soap or other materials, give it a good cleaning and you'll see how the problem is solved.
If there is still a water leak in your washing machine after checking all this, the load sensor is probably failing and filling up above what is needed, or there is an internal blockage.
If this happens, call one of our specialist appliance repair technicians . They will find the problem right away and save you time and money.
.
2. There's no water
1. Make sure you have chosen the right program , with its required water load.
2. Check that the hot and cold water hoses are connected correctly.
3. Note that the fill hose is not kinked or kinked.
4. Try turning on a tap in the same area of ​​the house to check for water . Otherwise, it could be a bigger problem, for which you will want to contact your municipal water provider.
.
3. Too much movement and noise
Is the charge level adequate? If you fill it too much or too little, it may cause an imbalance in the drum of your washing machine and make more noise than normal and acceptable.
Is the ground uneven under your feet? Always make sure, for any appliance, that the floor is perfectly level.
Is the drum loose? This would justify a batucada at home every time you wash your clothes.
If none of these problems are involved, the motor could be broken or damaged, so you will need to have a professional electrical appliance technician .
4. Stops mid-cycle
You could be resting while recharging the necessary water, evacuating it, or heating it, depending on the program you have indicated.
But if the problem takes too long to solve, it could be caused by a blockage or a bad position of the drain hose, which would prevent the water from disappearing to finish the washing.
Another cause could be a bad water valve or water heating element, which would also require the services of a washing machine repair expert .
You see it: As almost always, there are a number of small problems that any home user can detect and solve without professional help. But if after these tips you are not able to solve the situation by yourself, you have the help of the best experts in home appliance repair from all over the country so that your washing machine always stays in perfect conditions of use.
By the way, haven't you seen how easy it is to install a washing machine at the hands of our professionals?