Whether you're preparing your family for a disaster or getting ready for a long hiking trip, you'll need a good-quality stockpile of emergency food supplies. Taking nutrition, caloric intake, and affordability into account, we've hand-picked five of the best emergency food brands on the market today.
Americans have a history of traveling to places Salt Lake City and other locations that offer scenic walks and rides not just reading articles from links about them. Make the trip more enjoyable by packing your emergency supplies even if it's just for a snack to go with your water in the heat.
Most of these emergency food supplies are available to order online through the company website and Amazon. There are shipping options based on a minimum purchase amount, which makes it convenient for bulk orders. Plus, emergency food supply kits are modern and good quality. They take into consideration several diet categories; two are vegan and gluten-free.
It's a fact; these essentials and preparedness aren't just for preppers anymore.
ReadyWise Emergency Food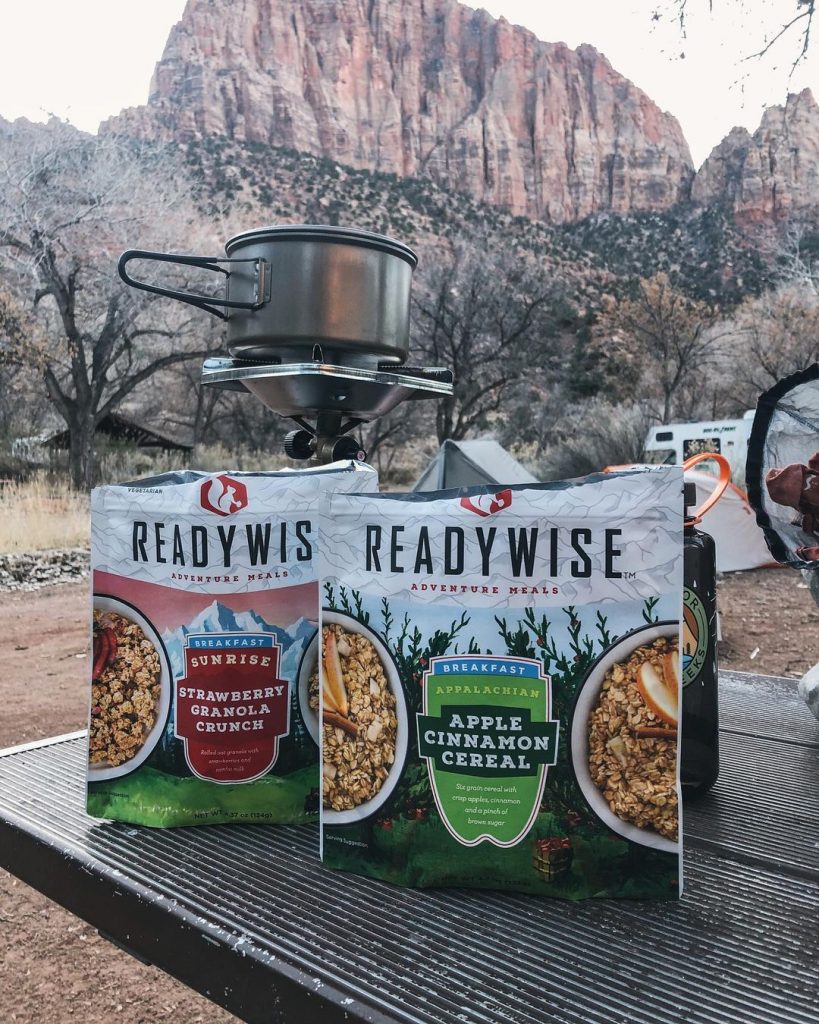 ReadyWise is among the most popular survival food brands thanks to its wide variety of food choices and family-friendly dishes. Food storage is easy thanks to the pouches. They're great for emergencies. You can enjoy them at home or on the go.
Pros
ReadyWise emergency food supply is available as individual meals, entrees, or as long-duration kits with a variety of foods including Brown Sugar and Maple Multigrain Cereal, Cheesy Potato Soup, Veggie Chili, and even healthy snacks like Dried Banana Chips. In the event of an emergency that knocks out the power, ReadyWise emergency food supply is simple enough to prepare that you'll still have access to tasty food to keep you going. Most of these freeze-dried and dehydrated essentials are simple to prepare and don't require a cooking stove, tools, or even hot water. They store long term.
Cons
Look closely at the labels of ReadyWise emergency food supplies; this brand of emergency food supply is notoriously high in sugar and salt. Drink mixes like their popular Orange Drink have 29g of sugar per serving and a hefty amount of empty calories — calories that are counted as servings in their full meal kits.
Take these empty calories into consideration when calculating how much food you'll need to survive.
Dietary Restrictions
For those with dietary restrictions and other needs, ReadyWise company brands does offer vegan and vegetarian options like cereals for breakfast, and fruits and vegetables. Just remember to bring the milk separately. Some of their most popular dishes like Pasta Alfredo, Hearty Tortilla Soup, and Cheesy Lasagna happen to be meatless for lunch.
Vegan options are limited, but ReadyWise offers simple vegan recipes using their kits to make vegetable dips and hummus.
ReadyWise products are allergen-friendly and do not contain fish, shellfish, peanuts, or tree nuts, so there's no peanut butter.
The gluten-free meal kit option includes a variety of popular favorites like Teriyaki and Rice, Potatoes and Chicken Pot Pie, and more.
Servings and Calories
A serving size is smaller than a full meal for a person and by ReadyWise's calculations, an average adult will need up to 10 servings of food per day to meet an average healthy intake of 1800 to 2000 calories.
Each pouch has 4, 200-calorie servings, so consider your average non-emergency diet when purchasing your survival kit.
Pricing
Starting at $2 per serving, ReadyWise is an affordable option for those preparing their survival kits with emergency food staples without sacrificing taste.
Remember that the price per person is not equivalent to the cost per meal — you will need multiple servings of food to make a satisfactory meal, so the final price is about $10+ per day for each person.
ReadyWise emergency food supplies are available in a wide range of durations from 72-hour kits to instant stockpile supplies with up to 4320 servings.
Food Storage
ReadyWise freeze-dried and dehydrated products are packaged in airtight mylar pouches inside polyurethane buckets and has a shelf life storage of up to 25 years, which is long term and makes food storage easy.
Mountain House Emergency Food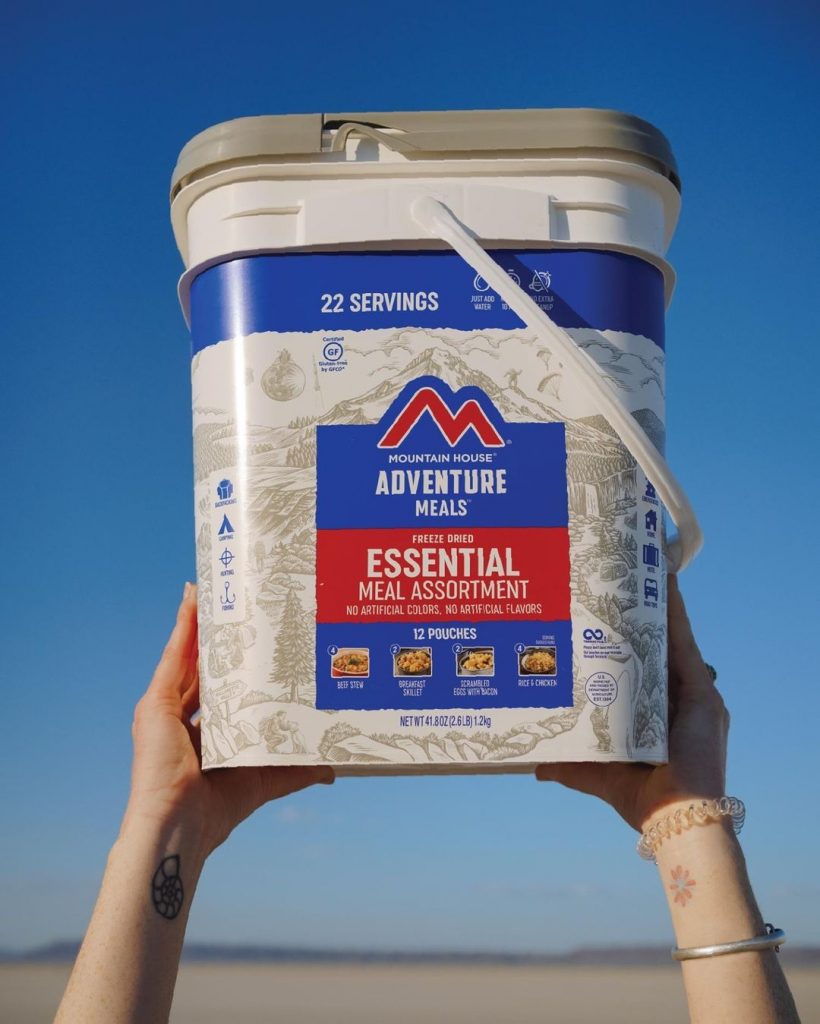 Mountain House brand is best known for its flavorful, protein-rich meals that suit a wide variety of tastes. Emergency food supply arrive in pail for easy food storage.
Pros
Enjoy an instant skillet with hash browns, sausage, veggies, and eggs for breakfast and savory beef stroganoff for lunch. The brand's granola with dried blueberries and the top-rated pasta primavera are some of the most popular survival foods on the market.
Unlike other survival foods which offer individual ingredients or family-friendly products, these are focused on a variety of full entrees. The options are definitely geared toward adults who enjoy a variety of foods, including yellow curry with chicken and rice.
Cons
Mountain House meals are high in protein, electrolytes, carbs for campers, backpackers, and other hungry outdoor adventurers. These entrees do tend to have a high salt content: just one serving of chicken and rice has 730mg of sodium. If you're using this food for hiking or other strenuous outdoor activity, you may need this additional sodium, but this level of salt can be harmful for families who are riding out an emergency situation at home.
To prepare these items, you'll need access to hot or boiling temperature water, but it is possible to cook meals with room-temperature liquids like stock.
Dietary Restrictions
The Mountain House company has a great selection of gluten-free and rice-based products.
All food is prepared in a nut-free facility.
They do offer vegetarian staples like pasta primavera, macaroni and cheese, and granola, but most are not suitable for vegetarians or vegans.
Servings and Calories
Each packet contains 2 servings of food at an average of 300 calories per serving. At 1800-2000 calories per day, an adult would need 6-8 servings per day, but highly active adults would require 8-10.
Their "Just In Case" emergency kit contains 2160 servings, which is enough to last an individual a year or a family of four for 3 months. The estimated calorie count for this kit is on the low side, so do consider your nutritional needs when calculating the duration of these meal kits.
Pricing
Starting at $3 per serving, this emergency food supply is not a budget emergency food option, but it does offer high-quality flavorful meals for the needs of active adventurers.
Available in durations as long as 1 year or as short as one meal.
Food Storage
Supplies have a shelf life storage of up to 30 years in a cool dry place, which is long term.
Augason Farms Emergency Food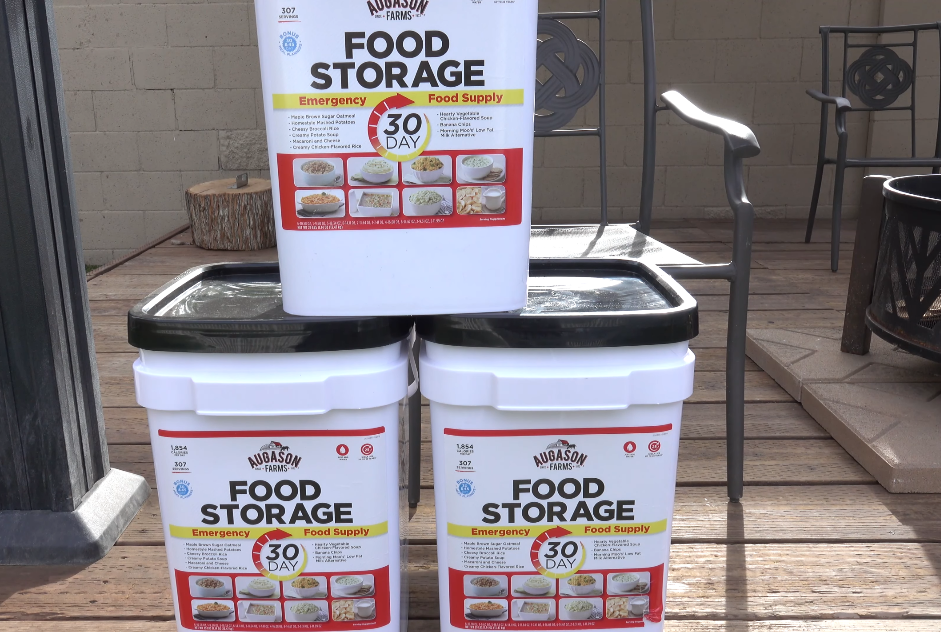 Augason Farms is an ideal option for people who prefer to build their own custom emergency kits out of their favorite foods. The pails make easy storage.
Pros
Choose from individual ingredients like freeze-dried broccoli, dried milk, or bulk canisters of banana chips.
For an instant holiday meal, try their all-in-one Thanksgiving dinner kit. Add bottled water for a truly all-in-one option.
Cons
Not all of the food is freeze-dried or specially dehydrated for instant reconstitution, so some products need to be cooked more traditionally.
Many meal options are sold individually as opposed to one large kit. This may be difficult for beginners who are looking for an instant stockpile.
Dietary Restrictions
Augason Farms leads the pack for a variety vegetarian options. Not only do they carry popular meatless substitutes made from textured vegetable protein (TVP), they offer plenty of naturally meatless meals like Cheesy Broccoli Rice, Buttermilk Pancakes for breakfast, and more.
Augason Farms is allergen friendly, but check each package for allergens.
Augason Farms offers plenty of certified gluten-free options for people who eat gluten-free. Since these products are generally sold individually, check each package for details.
Servings and Calories
Estimated calorie counts for Augason Farms company items are all over the place. By some calculations, an adult would need as few as 1200 calories to get through the day, while others suggest adults need above the 2200 mark. Consider your daily dietary needs and carefully calculate the number of calories you'll need before purchasing Augason Farms meal kits.
The non-resealable packets can contain as many as 12 servings each, so you really have to commit to eating the entire packet once opened.
Pricing
Since serving sizes vary greatly and many foods are sold individually, the price point for Augason Farms meals is flexible. The average is about $6 per day.
Augason Farms offers meal kits with enough food to last a household a full year or small bug-out bag kits meant to feed just one person for a weekend.
Food Storage
Unopened emergency food supplies can last 10-20 years when stored in a cool dry place, which is long term and a good storage shelf life.
Ready Hour by My Patriot Supply Emergency Food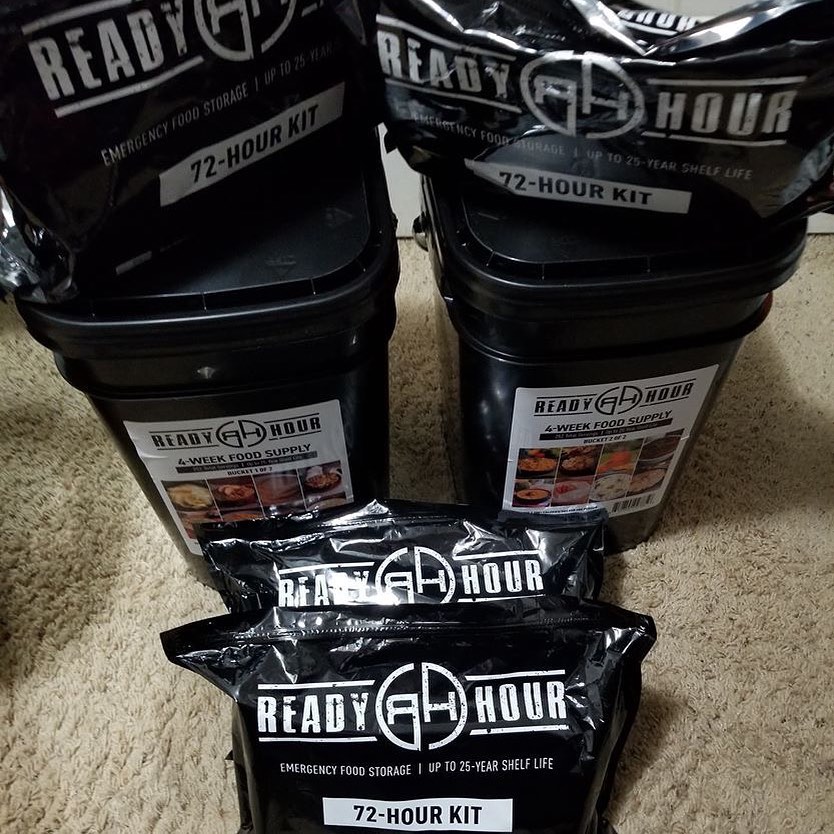 From individual ingredients to all-in-one kits or even long-term options like seeds and cookers, the emergency food supply company My Patriot Supply offers everything you'll need to survive a severe emergency or extended off-grid living.
Pros
Whether you prefer creamy stroganoff, southwest rice, broccoli cheese soup, or strawberry cream of wheat, there's something for everyone at My Patriot Supply.
My Patriot Supply also offers seed vaults, water heaters, and other survival essentials along with food kits.
Cons
It can be a bit challenging to find nutrition facts before purchase since so many of the foods are sold in all-in-one kits pouches, so My Patriot Supply is best for flexible eaters who are open to variety.
Like other major emergency food supply products, My Patriot Supply calculates food in terms of servings. One serving is about 200 calories, but many of these calories are high in sugar or salt. A single breakfast of oatmeal and orange drink would pack a whopping 52g of sugar — well over most people's daily recommended intake. It's a trade off between preservation and flavors.
Dietary Restrictions
My Patriot Supply is tops for special diets and some nutrients. The site clearly lists their variety of gluten-free, dairy-free, soy-free, low-sugar, and low-sodium options for easy shopping and counting of calories.
There is a generous selection of vegetarian favorites. Vegan options are limited to fruits, veggies, rice, and a black bean burger.
Most people with dietary restrictions will need to build their own kits from individual meals and ingredients, but My Patriot Supply stocks a ready-made kit that is entirely gluten-free.
Servings and Calories
At about 200 calories each, an average adult will require about 10 servings of My Patriot Supply food in a day.
My Patriot Supply breaks down their pricing into cost per calorie. Their 1-year emergency survival kit with 3504 servings averages $9.09 per 2000 daily calories.
Pricing
With kits starting at $1 per serving, this is a great budget option for survival kits.
Duration kits can last as long as a year with what you will ever need for survival. My Patriot Supply also stocks 72-hour kits and the very popular instant breakfast bucket.
Food Storage
My Patriot Supply food supplies are stored in airtight packets. This gives them a shelf life storage of up to 25 years in a cool, dry environment, which is long term.
Forgotten Food Miracle
If it's one of those times when you're on a shoestring budget and looking to build your emergency stockpile from scratch, look no further than the Forgotten Food Miracle cookbook. This book outlines tons of great recipes for shelf-stable food storage that lasts long term and cost next to nothing to prepare. Between inexpensive survival recipes, Forgotten Food Miracle stresses the importance of preparedness for any disaster.
Pros
Forgotten Food Miracle draws on historically proven emergency food supply recipes that were once lifesavers, but have fallen out of popularity due to the times. The book proudly features centuries-old recipes like Viking techniques for preserving fish, Amish poor man's steak, and pemmican, a historically significant food made of dried meat, berries, sugar, and fat. Other recipes include protein-rich homemade Spam, bulgur wheat hardtack, dried meat, fruit leather, and even the creative "portable soup."
The Forgotten Food Miracle company expands upon antique cookbooks with modern cooking techniques and accurate measurements. The color photos and step-by-step instructions make it easy to cook any of these meals. You'll always have an example nearby.
Cons
The recipes in Forgotten Food Miracle focus on providing ample fat, carbs, and protein. Few recipes are nutritionally balanced and should be supplemented with fruits, vegetables, and other vitamin-rich products to support good health, not just survival.
Forgotten Food Miracle is far from gourmet, but it does boast inexpensive recipes that will last a lifetime with no refrigeration.
Dietary Restrictions
Although Forgotten Food Miracle offers DIY recipes for a wide range of categories including vegetarian and people with gluten sensitivities. Many recipes are based off bulgur wheat, animal fat, and beans.
People with allergies to nuts and shellfish, however, will find most recipes suitable and safe.
Servings and Calories
Since Forgotten Food Miracle is a cookbook, not a pre-packaged kit, servings vary greatly. Most recipes are intended to provide at least a week's worth of food.
Pricing
All of the recipes in Forgotten Food Miracle are intended to be exceptionally cheap. The biggest draw for Forgotten Food Miracle is the famous Doomsday Ration: a military-created food bar that could keep you alive for only $0.37 per day.
The book includes a guide and more than one example for buying a month's worth of fresh groceries for under $100.
The book itself is priced at $37.
Food Storage
Each food is made from fresh, so food storage and duration vary, but all recipes are intended to be safe to eat after at least 3 years, but most will last for decades. So, go ahead and prepare in bulk. Doomsday Rations will last 60 years or more! That's an impressive long term shelf life.
What to Expect When Preparing Emergency Food
Now that you have all these great details and things about emergency food supply kits, it's time to make a choice among each company we presented.
If you don't consume the emergency food kits right away, it's OK. They have a long shelf life that provides long term food storage in part due to the packaging such as freeze dried pouches and large size pails. Freeze dried products still have taste and provide something to eat anywhere you may be including the mountains or your kitchen. You don't have to worry about things like tools and extra hand sanitation with freeze dried products.
Every company offers a slightly different list of products. Some include water for drinking, juices, or other liquids besides water. Your orders comes with vegetables and meats for two adults to share. Dishes are seasoned with flavor for taste. The right breakfast meals depend on your needs, situation, and desired calorie intake. If you're out hiking, you'll probably burn the calories off and need the extra protein from the meats.
Emergency Food Supplies Conclusion
Every household should have emergency food supplies in stock. Some brands offer free shipping with a minimum purchase. Visit their website for more information and product availability, or check out Amazon where you can read customer reviews. You might be able to sign up for email address member specials, too. The delivery makes it easier than going to the store especially if you're interested in a bulk order.
Preparedness is important even if it seems like you may never consume the emergency food supply meals. It's not just for preppers. Keep in mind, that these supplies have a long term shelf life. You can store them next to your survival gear. In case the power goes out, stock up on water. In emergencies, the public water supply can get tainted.
Emergency food storage is simple. Leave the food supply in its original packaging like cans until ready to eat. If you have any leftover content after eating, place it in oxygen absorbers. This way can finish consuming it within a days so it doesn't develop bacteria.
Emergency food supplies offer additional benefits. The quality is stellar thanks to the packaging, which ranges from cans to freeze dried and pails. There's no shortage of food items such as meats with meat sauce, flavor packed stock soups in pouches, and flavorful vegetables.
Your next task is to be aware of the preparation information. Some need hot water or boiling water. It depends on whether the products is in cans or pails. Every company puts their signature touch to differentiate themselves from the competition without losing flavors. It's a fact.
Everyone should make a commitment to care and control their health and emergency preparation.